"Not today." Game of Thrones fans know it. For the uninitiated, it is what young Arya Stark in GoT is taught to tell the God of death. A life lesson, to never say die.
People of Kerala would have said as much to the same God when the twin calamities came knocking on its door last year. If May brought the deadly Nipah virus to its shores, August bought a deluge it had not seen in almost a century. But amid the helplessness and despair, what stood out was the resilience and selflessness shown by Malayalis. Many would have expected it to succumb to the inevitability and throw in the towel, but that didn't happen. Thanks to a number of unlikely heroes.Aashiq Abu's Virus is a fitting tribute to them and several other faceless, nameless persons who helped contain and fight the Nipah virus. A series of deaths in Kozhikode and Malappuram districts in May threw the doctors and state administration into a tizzy as they struggled to identify the disease and the source. Even after it was identified, there was no vaccination or treatment protocol for it. Fear of the unknown spawned fake news, conspiracy theories and spread panic.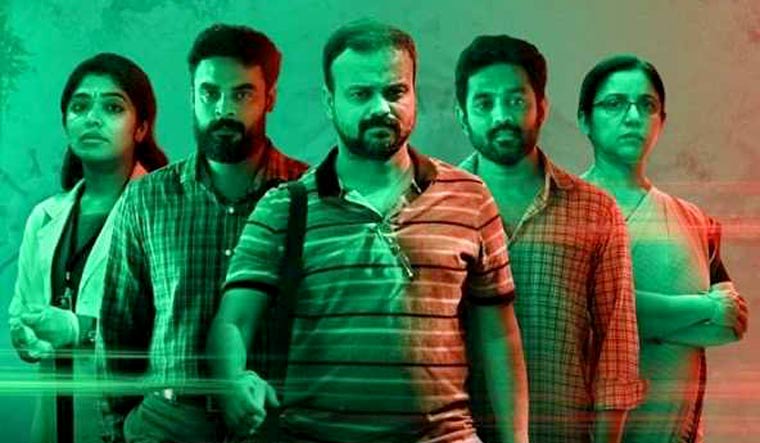 Many of us saw it from close quarters, others learnt about it through media reports. But what really went into fighting the virus, which killed 17 people, the paranoia associated with it, and the rampant misinformation being spread on social media? Virus attempts to answer these questions with a cinematic depiction of the real-life incidents. And it sets the pace brilliantly in the first half, with a realistic look at how the tragedy unfolds at a private and the government medical college hospital in Kozhikode. The audience can feel the confusion and fear building up, thanks to a taut script by Muhsin Parari, Sharfu and Suhas, slick direction by Abu and Rajeev Ravi's unassuming cinematography. There's hardly a moment to relax as every now and then we come face-to-face with an important revelation or a character. Sushin Shyam's music flows along beautifully in the background. There are hardly any distractions as the film stays true to it character.
It's only fitting that for a venture like Virus, the who's who of Malayalam cinema (the "second generation", that is) have played their part in it. There are a few central characters (if one may say so) like Dr Abid (Sreenath Bhasi), Dr Annu (Parvathy), Kozhikode Collector Paul Abraham (Tovino Thomas), nurse Akhila (Rima Kallingal as the real-life nurse Lini), Dr Suresh Rajan (Kunchacko Boban) and Health Minister C.K. Prameela (Revathy), but the film doesn't revolve around them alone. It is as much the story of their challenges and decisions as it is of the ambulance drivers, contract workers and the affected families.
The film struggles a bit in the second half to tie up a loose end in the form of Unnikrishnan (Soubin Shahir). In fact, it is only time in around 150 minutes of the film that one feels whether providing a back story to each of the affected characters and trying to bring it all together has finally taken its toll on the pace of the film. The film, however, ends on a strong and poignant note.
It's worth noting that apart from a dig at the Union government's alleged attempt to try and paint it as a biological attack by terrorists, the film steers clear of politics. It is a fact that the Kerala government came in for praise for its adept handling of the crisis, but Abu sings no paeans to the government, and rightly so.
Eerie coincidence once might say, but Virus releases at a time when the Nipah virus has made a reappearance in the state. It seems to have been nipped in the bud this time with no more then a single case being tested positive. It looks like the state has learnt its lessons. Thanks to those unlikely heroes who looked into the face of death and said, "Not today".