Joe Dylanne (James Remar) awakens the morning after the night before and tries to stir himself ready for the new day, grabbing a slice of cold pizza which lies by his bed for sustenance. He is a cop in New York City and rides his motorbike to work every day, except today something happens which does not improve his mood, and that's when he is splashed by a rollerskater, followed by said skater stealing a pedestrian's purse and zooming off with it. Joe isn't going to take that lying down, so rides off in hot pursuit through the streets, not giving up - but it's not the criminals of New York which will offer him the most trouble...
Hollywood's contribution to new genre cinema in the eighties was mainly the teen sex comedy, the slasher movie, and our old friend the action movie. Quiet Cool, which is not quiet and is debatable if it's cool or not, was one of the latter, attempting to make a leading man out of star James Remar, which it didn't quite achieve. He remains one of those recognisable faces who never made the front rank of movie stars, but because of efforts like this one, there remain movie buffs who are glad to see him nevertheless. Apparently inspired by the original First Blood instalment, here his big city cop was transplanted to the forests of the American Northwest.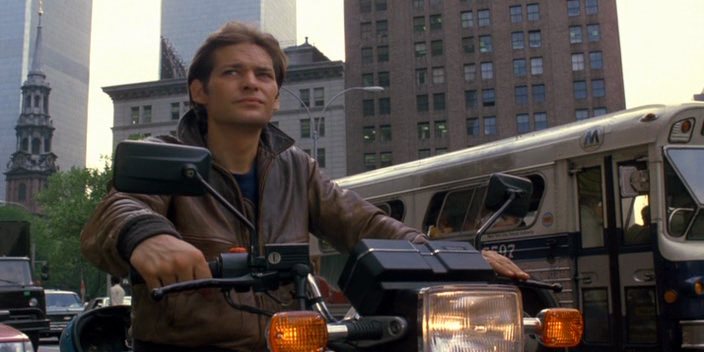 Not that Dylanne was a Vietnam veteran or anything, or if he was he kept it quiet, but soon into the opening ten minutes we see why he has been summoned to the woodland area that the plot takes up most of its time in. The brother of Katie (Daphne Ashbrook, probably best known as Doctor Who's brief fling in that failed TV movie of the nineties), an old flame of his, calls him up after she expresses concern that her family might be in trouble. Which they could be, especially if you call getting shot and thrown off a cliff by marijuana growers trouble, but they made a mistake, these thugs, in that they did not ensure the three victims were all dead.
Yup, there was one survivor, and he was Katie's nephew Joshua (Adam Coleman Howard), who managed to live through getting tossed off the side of the ridge, so to speak, and has suddenly turned into a teenage Sylvester Stallone. That's right, it's not Dylanne who's the Rambo substitute, but this young man who improvises all sorts of weapons to counterattack the drugs barons. Once Joe has arrived in the place, Katie fills him in on the situation, but not before he gets involved with that must-have for any rural tough guy opus, the barroom brawl, except this one sees our hero clipping the handlebar moustache from one of the heavies who winds him up; one presumes that's a touch of levity before the bloodshed really kicks in.
Being part of the survivalist strain of movies, there's not much room for anything but skulking through forests and taking aim at the bad guys, so Joe doesn't even get to reignite his romance before he's forced into forgetting all that boring "bringing the criminals to trial" stuff and sets about blowing them away with his handgun. No rocket launchers here, it's strictly make do with what you've got as he teams up with Joshua to make an unusual twist on the style, turning it into a buddy movie of sorts, except that oddly the younger seems to be doing all the teaching and Joe is his pupil. Along the way you get to see such novelties as a throwing dagger stopped by a walkman, which at least prevented us hearing a not very good cover version of California Dreaming for the umpteenth time, and a big surprise at the end as to the identity of the Mr. Big. Makes for